Are you looking for a way to keep your firewood dry during the winter? Looking for firewood storage ideas that don't make your yard look ugly?
I once had to store my wood under a tarp and I wish I had spent more time thinking about a proper storage area. When winter rolls around, firewood might be an essential part of heating your home, but you can't let it get wet. A specific storage area can keep your firewood protected and ready to use.
I did a lot of research trying to figure out a better way to store my firewood in a stylish and creative way. I am sharing some of these ideas in this article. Check them out and let me know what you think!
Storage Sheds For Firewood
A Small Shed With Shelves
Image credit: hajarfresh.com
This small shed has enough space for firewood, but also for some shelving. If you want, you can store your tools, such as an ax for your wood, or decorative items to spruce the storage area up.
This design is free-standing, so it doesn't need to be placed against a wall or other structure.
Great Pyramids
Image credit: pinterest.com
Pyramids aren't just for Egypt! This triangular design gives plenty of protection for firewood and doesn't look too difficult to make. Some old crates provide a base and a simple wooden roof keeps rain and snow away.
This looks like a relatively simple way to create a smart-looking design for firewood protection.
Against The Wall — With Lighting!
Image credit: demiandashton.org
Lots of people build mini sheds that stand against a wall for extra support. This one has lighting, so you can easily grab your firewood at night. Why not build two side-by-side like in this photo?
This looks great and can also provide storage for tools or to keep things dry in winter.
Keep It Compact
Image credit: hajarfresh.com
Most people think that storing firewood takes up loads of space. This clever rack sits against a wall and doesn't take up too much space. The metal roof also means that water won't seep through onto the wood.
If you have a compact yard, you might need a compact firewood storage area like this.
Divert Water With A Slanted Roof
Image credit: hajarfresh.com
This is another sturdy design that is placed against a wall. The clever slanted design of the roof helps water or snow trickle away. This is a big area, so you can store quite a lot of firewood or use it for other stuff. You can even place climbing plants around it for decoration.
Colorful And Slanted
Image credit: homiku.com
Who says firewood storage has to be boring! You can add a splash of color, just like this freestanding shed. This is another wood storage area that has a slanted roof to divert water and there's something that looks very satisfying about it being totally full.
Furniture Solutions For Firewood
A Real Space Saver
Image credit: apieceofrainbow.com
This firewood rack could easily be confused for a stand, TV cabinet, or even a coffee table. It's small and compact, but the fact that you can use the top surface is a real bonus.
This is a very effective use of space, even if you just use the top for decorative plants, like in this photograph.
Around A Fire Pit
Image credit: jessicapaster.com
This is one of the most creative storage ideas I've seen — perfect if you want to store wood for a fire pit! This design has storage under four benches that surround the pit itself.
This is an all-in-one design that cleverly makes use of the space. Plus, you can just get your logs from under your feet when it is time to throw another on the pit.
Create A Useable Surface
Image credit: bowerpowerblog.com
​At first glance, you might think this is an outdoor surface designed for serving food and drinks or even for food preparation.
The surface can be used for all sorts of things and when it's nice enough to be outdoors, you have the bonus of somewhere to store things or serve meals.
Or A Rack With A Shelf
Image credit: freedsgn.com
This is another very clever design. The way the storage unit is constructed provides a shelf area in the middle. This can be a place to store an ax or other tools, or just somewhere to place some evergreen plants.
This is also quite a shallow design, so it doesn't take up a lot of surface area in your yard.
Store Wood Against A Wall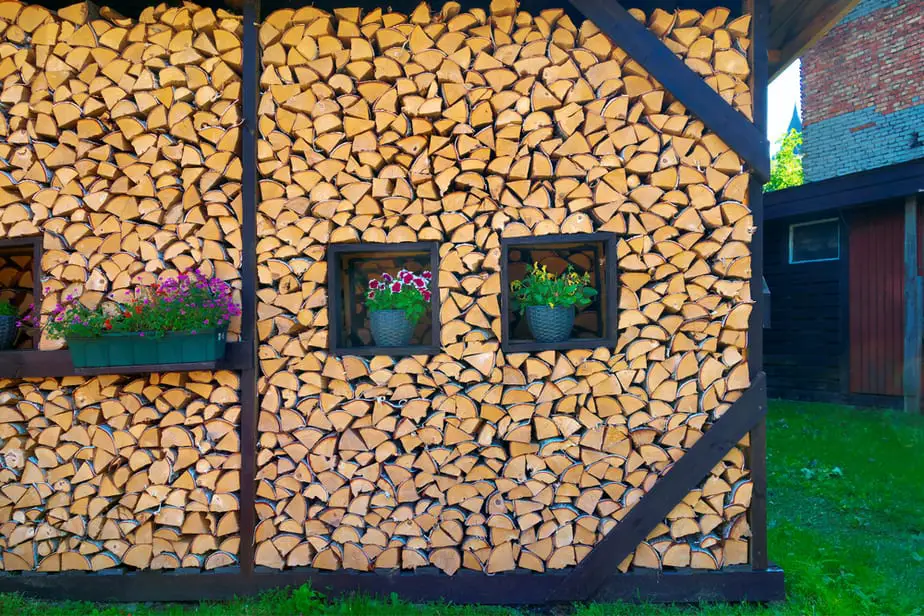 Image credit: pinterest.com
By stacking high like this design, you can fit loads of wood in your storage area. The design also has little shelves both inside and outside the wood area. It looks rustic and some would say it's a nice way to upgrade the look of an exterior wall.
Or By A Wood Burner
Image credit: pinterest.com
This is an incredibly modern look and has a beautiful symmetry to it. Why not create a feature wall with the wood burner in the middle and wood stored on either side? Imagine how cozy this area is on a winter patio during a cold winter evening!
Shelving It!
Create Large Shelving On The Wall
Image credit: gardenrock.seoveri.com
This design uses a whole wall to create a sort of outdoor shelving unit. It has lots of shelves, so you can put wood on one and plants, tools, or just about anything else you wish on the other shelves. This is another clever use of space.
Or Smaller Shelving
Image credit: justcraftingaroundpage.com
If you don't have quite as much space, you can get the same shelving effect in a smaller area. This example is full of wood, but you can use some of the shelves for storing other things or for decorating if you wish.
DIY Wall Shelves
Image credit: gardenserver.com
These shelves look like they are made out of old wooden pallets. By turning them on their side, you could potentially get a similar design. This is a more rugged DIY look, but it does a fantastic job of storing plenty of wood.
Tall And Modern Shelving
Image credit: terkultura.com
If you didn't know what this shelving unit was for, you could be forgiven for thinking it was a bookcase or similar indoor cabinet! Instead, it is designed to store wood for your fire. The tall, narrow design means it doesn't take up too much space, either.
Round Firewood Storage
Small And Simple
Image credit: jessicapaster.com
These cute round firewood racks are pretty small. Why not put one indoors and then have a larger store outdoors? You'll save yourself from having to constantly go outside to get more firewood when you need it.
Round And Ultramodern
Image credit: deavita.fr
This might look like it belongs in a modern art gallery, but it is a fantastic way to store your firewood. The round design protects the wood and, by splitting it into two areas, you can create shelving to separate kindling or tools.
Or A Metal Capsule
Image credit: hajarfresh.com
This sort of design is like a metal "capsule" for storing your firewood outdoors. It protects it from the elements very well and has a modern look to it. It looks a bit like an old-fashioned bathtub turned on its side.
Firewood Storage Using No Tools
A Concrete Block Rack
Image credit: instructables.com
To create a firewood rack using no tools at all, you can simply stack cinder blocks or concrete blocks with wood. This clever design gives a sturdy surface and keeps your wood contained, but doesn't require you to get your tools out even once.
Or A Wooden V-Shape
Image credit: woodprojects.piclodge.com​
This couldn't be simpler. Just put two firm planks of wood in a concrete block and you have yourself a V-shaped storage area for wood!
This is simple to make and it looks pretty good — just make sure it is somewhere that won't easily get wet.
A Large, No-Tools Firewood Storage Area
Image credit: c.ilahi1001.com
More cinder blocks are used in this construction and it is amazingly simple, even though it is a huge place to store wood. One of the benefits of a storage area like this is that it can be temporary. It's easy to move when all the wood is used.
This has a charming and rustic countryside look when finished and stores a lot of wood.
Woodception!
Image credit: chiotsrun.com
A dream within a dream — or a log storage area made of…logs! This is basically a way to stack logs to protect those in the middle. No extra materials or tools are needed — just cleverly position the wood.
This design is particularly good for an indoor area where it won't get wet. A winter covered gazebo would be a suitable space.
Indoor Firewood Storage
On Wheels
Image credit: theownerbuildernetwork.co
If you need to move your firewood around for multiple fires, this could be a great choice. It also stacks the wood high, so it doesn't take up too much floor space — perfect for preserving indoor space.
Built Into The Wall
Image credit: designsponge.com
This may be one of the more ambitious designs on this list. If you have a recessed area in your wall, why not use it to inbuild some firewood shelves and storage?
This rustic design reminds me of an old-fashioned European tavern. You could even use some of the shelves to store or display other items. This may take a lot of construction, but the design is very striking.
More Modern Shelving
Image credit: cooldiyideas.com
You could see these shelves being used for firewood in the winter and beautiful plants in the summer. They have a simple look that is quite modern, but this would also work with classical decor.
Tucking the wood away next to a fire or wood burner can turn the whole area into a design feature, as well.
Or Go For A Basket — Or Bucket!
Image credit: cooldiyideas.com
​In terms of storing your firewood, it doesn't get much simpler than this. A metal bucket makes for a good area to store your wood and keep it separate from the rest of your home. It can also look pretty good, too.
Just buy a bucket, fill it up, and you're ready to go! If you prefer, you can go for a waved basket design instead of the metal bucket, but both do the same thing.
Rounding Up The Best Firewood Storage Ideas
I bet you never knew there were so many firewood storage ideas? I wanted to show that this is a chance to get creative while ensuring your firewood is properly protected and stored in a way that is easy on the eye or out of site in a London Storage Space.
Did you enjoy my list? Please share it with others if you think it will be useful for your friends during the wintertime.